Painting's by Shareall...
---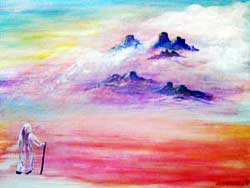 ETERNITY is a painting that sprang forth from a feeling of walking into forever. The figure was a picture of me taken at a friend's home. It was then painted with a feeling of transparency. A feeling of "no beginning and no end."
---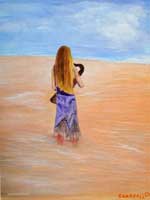 PLAYING IN FOREVER was a picture of me with my small harp. In using the picture for the painting I am trying to convey the feeling of standing in the sands of time, moving and unmoving while I look to the vastness of the great blue beyond.
---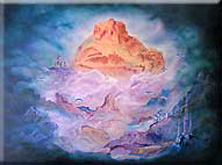 FLOATING BELL ROCK
is a painting that arose from my deep feelings for this sacred rock formation in Sedona Arizona. Every day I was singing to Bell Rock and dreaming of Bell Rock until finally this painting came forth.
---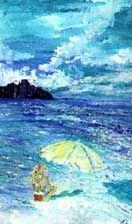 BEACHLOVE is a painting which started from a picture on the cover of a magazine. The picture was changed, and then I went into Photoshop and added the glass effect. It gives a watery feeling of joy.
---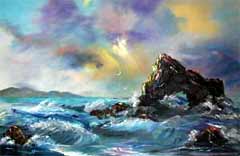 WILD OCEAN is a painting that wanted to be bold and with intense colours. It was painted from looking at a painting in an art class. By the time of completion it no longer looked like the original.
---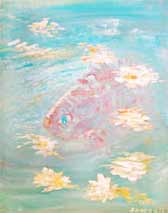 FLOATING FISH is a whimsical painting that came totally by surprise. There are two layers underneath of completely different paintings. I started to rub the painting out and slowly the feeling of koi fish and lilypads started to emerge. This is the unexpected joy of painting, something emerges through the layers.
---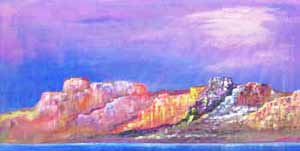 COLORADO MOUNTAINS was a painting done in northern Colorado. The beautiful mountains are so magestic and inspired me to represent a small part of this grand feeling on canvas.
---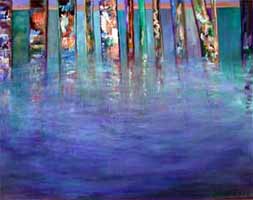 MYSTICAL TREES was started from a picture in a magazine. As always I left the picture behind as the trees took on a life of their own, emerging as if from a watery wonderland. This painting simply painted itself.
---
FACE IN THE MIST was started with a picture in a magazine of Christy Turlington, a well known model. I love her bone structure and from there it took on a magical quality. It is as if she is a princess arising from the mists of time. Since painting Christy I have read many articles about her. She truly exemplifies qualities of "livingtolive" in her work, charitable giving and her behavior. She is truly befitting the title of "modern princess" showing how it is to be truly Royal.
---


SANCTUARY TREE (Thick Oil) This is one of a series of three oil paintings done of a tree in Northern Colorado that I love. This tree stands as a beacon. The deer and mountain lions travel nearby. The tree seems to speak of Eternity to me. This wild palet knife painting even amazed me when it was completed
---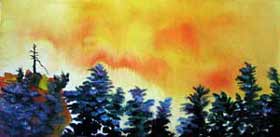 SANCTUARY TREE (Yellow Orange) Second in the series. I felt the orange glow gave this heavenly tree a special feeling.
---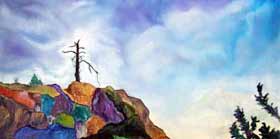 SANCTUARY TREE (Blue) Third in the series. Changing the painting to a blue tone gives the feeling of quiet and peace as this beautiful tree being stands alone on the mountain.